Community Health is led by a group of individuals who bring an abundance of specialized knowledge and expertise to the team. Together, their strategic vision and adaptability provides oversight to Vermont's largest FQHC providing integrated Primary Care, Dental and Behavioral Health services.
Mike Gardner
CEO
Michael Gardner, CEO, received his Bachelor of Science in accounting from Liberty University and is a CPA. He joined Community Health in 2004, having gained experience in several fields, including a $10 million furniture manufacturing company and a $120 million multi-state manufacturing company that included two foreign subsidiaries. Prior to Mike's years of manufacturing and cost accounting experience, he worked as a staff accountant for three years with the local hospital that owned and operated the primary care clinics. He gained valuable financial statement preparation and analysis experience for numerous medical practices. He became CEO in January 2022 after serving as interim CEO for the prior six months. Mike was raised in Castleton and has been a patient of Castleton Family Health Center, now Community Health Castleton, since he was a child. He has three children, the youngest being a son with special needs. Mike's son was born extremely premature and was diagnosed with severe cerebral palsy as a result of complications from the premature birth. He is very passionate for children with special needs and the services available to them, having first hand had to depend on various programs available through the state to assist with his son's disability.
LaRena Fitz-Gerald, CPC, MS
Chief Operating Officer
LaRena Fitz-Gerald, CPC, MS has worked for Community Health since 1998. She first began her career at Castleton, which at the time, was the only location. She worked in the billing department and was responsible for coding and collecting revenue. In 2000, she implemented EHR (Electronic Health Record) to the billing department. Throughout her career in the billing department, she reduced billing errors from 12-31% to 3-10%. Now as the Chief Operating Officer, LaRena oversees the organization's operations, IT operations, new business acquisitions, service expansions, business development, and collaborations. She is also responsible for ensuring practice sites remain in compliance with federal, state, and the organizations health and safety regulations. She also assists in the development of policies, procedures, and protocols of operations. LaRena received her master's degree in leadership from Plattsburgh University in 2013, with a thesis on Program evaluation, leadership communication, and transformational leadership. LaRena enjoys spending her spare time baking, home improvement projects, and golfing.
Dean Rinaldo, MBA
Chief Financial Officer
Dean Rinaldo, CFO, prior to joining Community Health in 2018 he worked for another FQHC and in manufacturing. Having learned a lot about cost accounting and data analytics he wanted to rejoin the healthcare industry. Prior to becoming CFO, Dean worked as the Controller with then CFO Mike Gardner to modernize the accounting practices and eliminate manual processes and paper recording. Dean earned his Bachelor of Science in accounting from Castleton University. Dean then earned his Master of Business Administration in accounting from Southern New Hampshire University.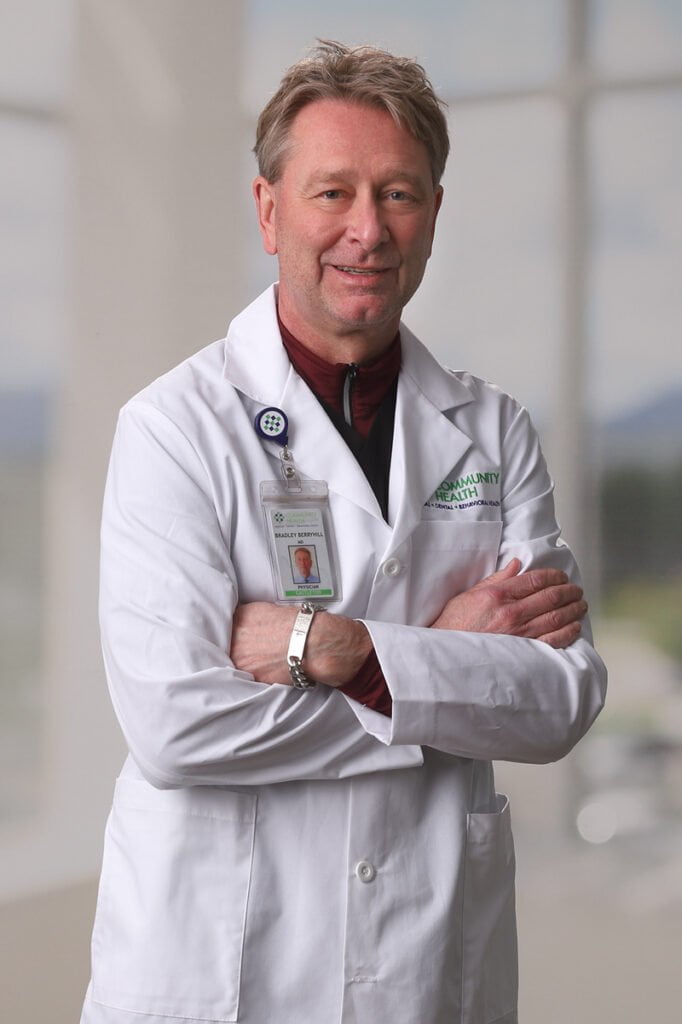 Brad Berryhill, MD
Chief Medical Officer
Dr. Berryhill is a Board-certified Family Practitioner who came to Community Health from his solo private practice in rural upstate NY, where he went beyond the usual "doctor's office" in offering special services to meet the special needs of his patients. For example, he developed an affiliation with a regional medical school to provide psychiatric and counseling and provided support services to a network of family health centers. Dr. Berryhill is highly qualified to lead clinical activities at Community Health. He received his BS from SUNY College at Oneonta, attended the SUNY Health Science Center at Syracuse, College of Medicine, performed his Family Medicine Residency at St. Joseph's Hospital Health Center, Syracuse, NY and continued his education by attaining an MS in Health Care Management from Harvard University. His clinical training has also included acting as Primary Preceptor in the Rural Medicine Program, SUNY Health Science Center at Syracuse, and Primary Preceptor, third-year clerkship, Albany Medical College (VT). As Chief Medical Officer, Dr. Berryhill is credited with having developed and implemented an internal performance standards and accountability system, established clinical Quality/Performance Improvement and Patient Safety programs and led the collaborative effort to complete a strategic planning process. He is an active member of the RRMC Physician staff, having contributed to several committees and projects, as he did when he was employed in NYS.
Tracy Upton, RN
Director of Clinical Operations
Tracy Upton is a Registered Nurse and Director of Clinical Operations. A 1996 graduate of Castleton University, Tracy began her nursing career at Pediatric Associates (Now Community Health Pediatrics) in 1996. During her time in direct patient care, Tracy was very focus on improving health outcomes for the maternal-child health population. In addition to working at Pediatric Associates, Tracy worked at Rutland Area Visiting Nurse and Hospice as a Childbirth Educator, Lactation Counselor, Pedi-Hi Tech and Maternal/Child Health Nurse. After leaving direct patient care in 2013, Tracy was instrumental in developing a the quality program at Communty Health and served as the Director of Quality before her transition to Clinical Operations. Tracy is a member of the Rutland Community Collaborative, where she serves on the Core Team and Data Committes. She is also a member of population health and quality committeees for OneCare, and currently serves on the Board of Directors for the Rutland County Free Clinic. In her oversight of clinical operations, quality continues to be a focus with the goal of providing the best patient-centered quality care for the patients in our health service area.
Claudia Courcelle, RN, BSN, MSA, CCM
Director of Care Management
Claudia Courcelle has been with Community Health since 2007 and is the Director of Care Management. This involves managing and coordinating all Care Manager/Care Coordinator services at Community Health to include patients with complex medical issues, ongoing support with medical diagnosis and medication management. Claudia also facilitates clinical operations at our three skilled nursing home facilities for embedded Community Health providers/staff in supporting nursing home patients. She is the coordinator of Community health support groups, to include Alzheimer's/dementia support and provides oversight of ADCES Certified Diabetes Education program and nutritional services. Claudia facilitates and participates in a vast array of collaborative/committees throughout the community. Claudia was educated at St. Michael's College in Colchester, VT and Hunter Bellevue School of Nursing in NYC. She has been a Certified BCLS (Basic Cardiac Life Support) Instructor since 1998 and ACLS (Advanced Cardiac Life Support) certified since 2000. She provides community training in BCLS, Heart saver and Family and Friends CPR for the Rutland Community program. At Community Health, she provides oversight for the CPR program and is the training facilitator for BCLS.
Christopher Chadwick, MS, LADC, AFC
Director of Behavioral Health and MAT Services
Christopher Chadwick is a Licensed Behavioral Therapist and an Accredited Forensic Specialist in Forensic Counseling. Christopher has more than 23 years of experience in the social services field including complex multi-faceted therapy, law enforcement, Drug Courts and experience working within the prison system. He is a graduate of Norwich University with his Master's Degree, Florida Southern College for his Undergraduate Degree. Christopher currently serves as the Director of Behavioral Health & MAT Services for Community Health where he oversees all Behavioral Health and Medicated Assisted Treatment services. He currently serves on the Board of Directors for the Rutland County Free Clinic. Christopher is an adjunct professor for Castleton University teaching in the Psychology/Social Work Department. He has served as a consultant for private businesses, government agencies and medical facilities for incorporating behavioral health/substance abuse policies and workforce training.
Jill Jesso-White
Director of Communications and Development
Jill Jesso-White is the Director of Communications & Development. She has been at Community Health since 2015. Her Bachelor of Arts in journalism, with a minor in political science, is from St. Michael's College. Her Masters of Science in Administration is also from St. Michael's College. During her time at Community Health Jill oversaw the implementation of a patient relations program, a compliance program and a marketing/public relations program. In addition she orchestrated the organization's re-branding in 2019. This year, Jill completed Bi-State Primary Care Association's Leadership Development Program and received a Certificate in Community Health Leadership. Her expertise includes working with the community to forge relationships that promote the organization. Jill lives in Hancock, VT where she is very active in promoting her town and founded a Friends group to support the town library.
Sami Davis
Director of Human Resources
Samantha "Sami" Davis is Community Health's new Director of Human Resources. Prior to joining Community Health she worked at Community Care Network in Rutland as the Employment and Employee Relations Manager. Sami is a graduate of Robert Morris University where she majored in clinical psychology with a minor in photography. She's currently on the board and actively involved as the president-elect for the local Society of Human Resources Management chapter, developing and implementing HR programs for professionals all over the state. Sami and her fiance, a Rutland native, have been foster parents for the past few years. She enjoys kayaking and hiking and is an avid swimmer. Her love of Vermont and the outdoors comes from growing up in western Maryland's Appalachian Mountain region. Her goal as Community Health's HR Director is to work collaboratively to support and care for all employees and to provide resources that make a lasting change.
Moses Hudson-Knapp, RN
Director of Population Health and Quality
Moses Hudson-Knapp is a Registered Nurse and Director of Population Health and Quality. He earned his bachelor's degree from Castleton University in 2005, focusing studies in behavioral science and psychology. He began his healthcare career as a school-based interventionist for Community Care Network (CCN), developing behavioral modification plans and working hand-in-hand with educators, administrators, and families to improve outcomes. He later transitioned his role to therapeutic case management for CCN's Child & Family team where he provided direct care and case management for families as well as coordinated service planning that engaged a variety of local agencies and community partners. Hudson-Knapp returned to Castleton University where he earned his RN, ADN in 2016 and spent the following year as a medical surgical nurse for Rutland Regional Medical Center. He joined Community Health in 2017 where he has functioned as a clinical leader, provided education and EMR training for clinicians and staff, and led many initiatives to increase quality, scope, and access to clinical care, including the development and deployment of PCR testing and safety procedures during the COVID pandemic. He currently facilitates the Community Health Credentialing Committee and Clinical Review Board, participates in the Rutland Community Collaborative and Rutland Health Alliance, and sits on the GME committee for the Maple Mountain Consortium.